Tracking the Dynamics of Migration in the Early Modern World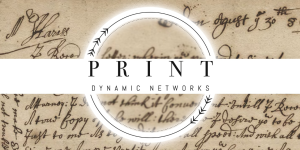 This project is a collaborative effort to trace the communication networks of early modern European religious minorities and the ways they shaped the dynamic patterns of migration in the Atlantic world.
PRINT seeks to visualize and make accessible the connections between Anabaptists, Quakers, and Pietists – all religious minorities in the seventeenth and eighteenth centuries – by providing access to manuscript correspondence through network visualizations. Drawing on roughly 3,000 letters written between 1630 and 1730, PRINT will bring together manuscripts from repositories in the United Kingdom, the Netherlands, Germany and the United States.
By creating a portal where users discover the religious, social, and economic connections between correspondents and visualize their movements, PRINT aims to make accessible the letters of religious refugees and missionaries – ordinary early modern people. The project is building partnerships with archives who hold the original documents and with citizen scholars to digitize, transcribe, and translate the correspondence. When complete, PRINT will allow researchers to visualize different networks and then read the original sources behind the visualization to hear the voices of ordinary people in the seventeenth and eighteenth centuries.
PRINT's goals are to:
Visualize the constantly shifting communication networks that emerge from the letters to better understand how the connections between and across religious groups shaped migration flows in the period.
Create a digital collection of crowd-sourced transcriptions and translations of the letters to make the content more easily accessible.
Harness the power of the Zooniverse platform for crowdsourcing the transcriptions and translation.
Develop open-source tools to connect seamlessly the network visualizations and the correspondence database.
Make PRINT a (de)centralized repository of historical information for researchers and the general public.
PRINT has created a prototype visualization of communication lines displayed on a period map.
Principal Investigators
• Dr. Rosalind Beiler
• Dr. Amy Larner Giroux
Partnerships
August Hermann Francke Study Center, Frankesche Stiftungen, Halle, Germany – Britta Klosterberg, Head of Study Center; Jürgen Gröschl
Historical Society of Pennsylvania – Cary Hutto, Director of Archives; Andrew Williams, Digital Services Archivist and Research Services Librarian
University of Central Florida Libraries – Lee Dotson, Digital Initiatives Librarian; Sai Deng, Metadata Librarian and Associate Librarian
Zooniverse – Samantha Blickham
Advisory Board
Andrew Williams, Digital Services Archivist and Research Services Librarian
Ursula Lehmkuhl, Professor of International History, University of Trier
Mirjam G.K. van Veen, Professor of Religion and Theology, Free University of Amsterdam
Christopher Warren, Professor of English, Carnegie Mellon University
Scott Weingart, Program Director, Digital Humanities, Carnegie Mellon University Library
Student Contributors
Sarah Anderson – History BA, UCF; transcription
Luke Bohmer – History MA, UCF; data clean-up; geolocation
Michael Burke – History MA, UCF; data clean-up; geolocation
Casey Carnes – History BA, UCF; mapping tools
Drew Fulcher – History MA, UCF; data clean-up; geolocation; network analysis
Ruth Jacobs – Engineering BA, Elizabethtown College; transcription
Anna Kephart – History MA, UCF; transcription project process; educational materials; video production
Da Kim – Computer Science BS, UCF; PRINT database prototype, user interface
Keith Knorr – Speech Pathology BS, UCF; Linked Open Data
Rebecca Lipkin – History BA, UCF; transcription
Daniel Martel – Computer Science BS, UCF; PRINT database prototype, database development
Cassidy Michonski – History MA, UCF; educational materials, transcription, Zooniverse project
Lynda Nguyen – History BA, UCF; transcription
Rhiannon O'Neil – History MA, UCF; transcription project process; educational materials; video production
Carys O'Neill – History MA, UCF; data clean-up; metadata creation; geolocation; grant proposal assistance
Onyx de la Osa – History MA, UCF; geolocation; Gephi visualizations; network visualization; grant proposal assistance
Edson Rios – Computer Science BS, UCF; PRINT database prototype, user interface
Dimitri Rivera – Computer Science BS, UCF; PRINT database prototype, database development
Jeremy Rodriguez – History BA, UCF; transcription
Evan Wallace – Text and Technology Ph.D. Candidate, UCF; Graphic Design; mapping tools; video production; grant proposal assistance
Casey Wolf – History BA, UCF; data clean-up; metadata creation; scanning; educational materials; video production; Historical Society of Pennsylvania Intern
Cory Worthington – History MA, UCF; bibliographic research; grant proposal assistance
Joshua Wozniak – Computer Science BS, UCF; PRINT database prototype, project manager; database development
Krystina Yeager – History BA, UCF, History MA, Salem State University; transcription, Linked Open Data