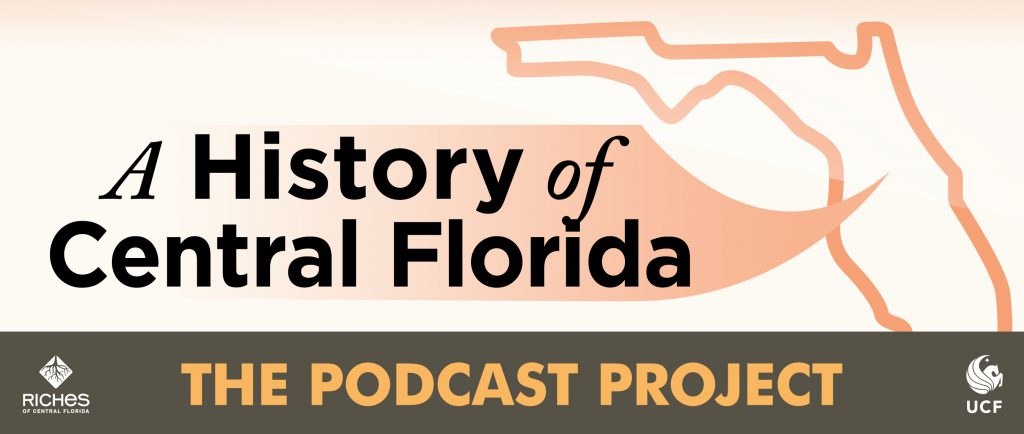 A History of Central Florida Podcast is a fifty-episode podcast series executive produced by University of Central Florida associate professor of History, Dr. Robert Cassanello, and nine graduate students. The series was produced from November 2012 to June 2015.
Based off of the BBC's A History of the World in 100 Objects the series begins each episode with a description of a historical object relevant to the history of Central Florida. The object then propels engaging stories about the area. One episode, for instance, utilizes surviving Jim Crow era signage and employs them to tell a larger story about the lived experience of segregation in the area. A recurrent theme throughout many of the episodes is the area's social history, a central historical interest of Dr. Cassanello.
The series represents a useful methodological approach to material culture and public history in Central Florida. Students involved with the series performed a variety of hands-on digital editing, production experience, and developed skills which will be useful to them as historians, storytellers and publicly engaged scholars. The entire podcast series is available on UCF's STARS or through a Google Search and has been downloaded and viewed around the world.
Executive Producer
• Dr. Robert Cassanello
Episode Producers
• Bob Clarke
• Bethany Dickens
• Chip Ford
• Ella Gibson
• Kendra Hazen
• Katie Kelley
• Kevin Stapleton
• Daniel Velázquez
In the News
• Bergen, Sadie. "History of the Download: Podcasting the Past." Perspectives on History, (February 29, 2016).
• Davis, Christopher. "UCF History Professor Teaches Through Podcasts." NSM Today, (September 30, 2016).
• Kruckemyer, Gene. "Central Florida History Podcasts Show 'the Journey that Got Us All Here'." UCF Today. (October 8, 2015).
Funding
• Florida Humanities Council, Mini Grants for Community Organizations, (2013)
Awards
• Hampton Dunn Internet Award, "A History of Central Florida Podcast" (2016)
• Hampton Dunn Internet Award, "A History of Central Florida Podcast"(2015)
• Hampton Dunn Internet Award, "A History of Central Florida Podcast" (2014)
Website
http://stars.library.ucf.edu/ahistoryofcentralfloridapodcast/