UCF Celebrates the Arts is an annual showcase featuring an interactive exhibition of student artworks in the areas of Visual and Performing Arts. In addition to the products and performances of the arts units, each year there are projects that demonstrate the arts vital role in innovation, communication and fostering creativity across all disciplines. The festival provides a platform to share with Orlando and the Central Florida region the collaboration that occurs among all the units at the University of Central Florida and also with our community partners. UCF's commitment to interdisciplinary activities and partnerships is well established and the festival celebrates these relationships as it demonstrates the university's strong positive impact in Central Florida and beyond.


---
Contact us
Tickets: 407-823-1500
Entities involved with UCF Celebrates the Arts 2019 include:
UCF News and Communication
Members of the Celebration Steering Committee include Michael Wainstein, Gary Brown, Hannah Estes, Heather Gibson, Tommy Harrison, Maureen Landgraf, Julia Listengarten, Scott Lubaroff, Claudia Lynch, Rudy McDaniel, Steven Risko, Azela Santana, Bert Scott, Debi Starr, Keri Watson, and Krissy Yagel. The Steering Committee would also like to acknowledge the faculty and staff of the Schools of Performing Arts and Visual Arts and Design, UCF Foundation and Alumni Association, Matthew Dunn, Victoria Weston, and the staff of Dr. Phillips Center for the Performing Arts. Without you, UCF Celebrates the Arts could not exist.
To support this event, please contact Kara Robertson at [email protected] or call 407-823-3448.
For other inquiries, contact Heather Gibson at [email protected].
---
About the Festival Artwork
In fall 2018, the UCF Art Gallery hosted an exhibition titled Time Stretch featuring the art of Elizabeth/Sidebotham. The artwork for UCF Celebrates the Arts was selected from this exhibition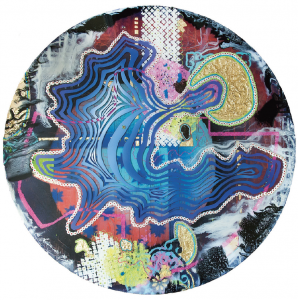 Elizabeth/Sidebotham embraces the paradox presented by the intersection of a traditional domestic landscape and artistic productivity. The work reflects the sacrifices, challenges, freedom and joy of parenthood. Fragility interplays with strength. Reverence replaces frivolity. The materials, forms and modes of productions are infused with memory and sentimentality and exist in a state of premature nostalgia. There is profundity in the banal, but it is also spectacularly boring. Elizabeth/Sidebotham strives to capture this contradiction.
Erin Elizabeth is a conceptual artist and utilizes nontraditional materials such as cake and sprinkles along with gold leaf in order to explore questions about banality, celebration, and experiential value. Harry Sidebotham is first and foremost a painter. He engages in the tradition of painting, investigating scientific theories such as parallel dimension theory. They have two young children and a collaborative studio practice that assumes the identity, Elizabeth/Sidebotham.
ELIZABETH/SIDEBOTHAM: Can We Skip To The Good Part, acrylic, cake, frosting, sprinkles, gold leaf, and resin on CNC scrim board, 36" x 36", 2017 (pictured at left).