Award will not be offered in this year's cycle
The Beth Barnes and Katherine Keller Award presents a $1500 award to a full-time graduate student in English. Applicants must demonstrate commitment to the discipline as well as to the UCF Department of English.
This award presents $1500 to a full-time graduate student in English. 
---
Scholarship Instructions
Graduate and undergraduate English majors are invited to apply for the English Department scholarships. To apply, please submit digital copies of all application materials via email to [email protected] by 5:00 p.m. on the final day of submissions.
Applicants must be enrolled English graduate students during the semester of application and the semester in which the award is granted. Students may apply for more than one scholarship (see guidelines for details).
Requirements include the following: 
Applicants must be graduate students in English enrolled full-time in both the Spring and Fall semesters of 2022; 
A copy of your UCF graduate transcript; 
A statement (200-300 words) telling us about your personal background and future plans after earning your graduate degree in English; 
A curriculum vitae (CV).
Application Form
Scholarship Recipient Release Form
---
Award
UCF alumnae Rebecca Gulick MA, Nancy Naugle Haney MA, and Rachel Cooey West MA created this award to recognize and honor their former UCF professors, Dr. Beth Barnes and Dr. Katherine Keller: "During our 1989–91 graduate program to earn Master of Arts degrees, two of our professors, in particular, would change the trajectory of our lives, Dr. Beth Barnes and Dr. Katherine Keller. We arrived in the graduate program at UCF with no defined plans for the future, and we left with more than a degree. These professors infused us with enthusiasm to pursue knowledge and make connections—in literature and in life. From them, we learned nuggets of wisdom that continue to guide us in the years since. As we continue on our journey—ever the English major—we lead interesting and varied professional careers, and our friendship remains a pillar in each of our lives. We wish to help other English graduate students at UCF have the same enriching experience."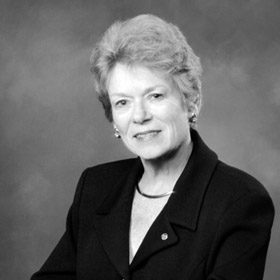 Dr. Beth Barnes
Beth Barnes completed her M.A. in English Language and Literature from the University of South Florida and obtained her Ph.D. with an emphasis on British Literature from the University of North Carolina at Chapel Hill. She joined UCF as an English instructor when it opened its doors in 1968. Barnes served as Vice President and Chief of Staff on President John Hitt's leadership team until her retirement in 2008 as Vice President Emerita. She is a charter member of the UCF faculty.
https://www.ucf.edu/news/best-can/
Dr. Katherine Keller 
At the University of Toronto, Katherine Keller completed her B.A., M.A., and Ph.D. with an emphasis on 17th-Century drama. Her first academic position was at LaSalle College in Philadelphia. Afterward, she joined the English Department at UCF in 1984. While in the English Department, she chaired the committee that created Honors in English program, one of the first of the Honors in the Major programs at UCF. Keller also chaired the University Honors Advisory Committee and subsequently served as the Director of UCF's Honors Program (1994-96). Following her tenure at UCF, Keller served as the Associate Dean of Columbian College of Arts and Sciences at George Washington University in Washington, D.C.